Dear friends
It was two years ago Mother's Day that I was Ordained BY Rabbi Loring Frank. I AM eternally grateful that he immediately saw something in me that I wasn't sure of.  He saw and felt my Light and felt my work to be ONE of high contribution to humanity at a time when I was in doubt and only four years post divorce.   When we consider our foundation, we need to look at the significance of being ONE with G-d, ourselves and others.
ALL IT TAKES IS ONE
One of the insights of this month of Iyar is that this is a time of deep healing as we prepare for the coming of Shavuot, the giving of the Torah.  This weeks Torah Portion "Emor", speaks of the ONEness, wholeness and reminds us that only when we are complete can we bring out the completeness of others. I therefore urge you to step up your meditation practices and take time for a minimum of ONE peaceful heart breath per hour, per day.  By doing so, you will begin to see truth as the means to your goals and peace will be your result.  Once this is accomplished, ONE will be unified with G-d, with him or herself and able to embrace the divine mother, the Shechinah.
ALL IT TAKES IS ONE
Since 1992, I've periodically seen and felt in my dreams and creative visions what I've come to know as Shechinah.  The Shechinah was accompanied by all the clouds of glory, and when it journeyed the Israelites took up their march…  And when the Shechinah ascended, the cloud also ascended.  "The Zohar.  In midieval times, Shechinah directed the jewish people to the Land of Milk and Honey.  According to some Sages, as Shechinah and pure femininity became more and more powerful in the minds of men, the sons of Adam got scared. A powerful feminine principle was intriguing at first, but when it threatened to become uncontrollable by men, when it resisted subordination, men hurried to "put it in its place".  And this is just a taste of her-story and history.
It is my firm belief that love from the Divine Mother, Shechinah and a consistent meditation practice will support the healing of polarities and dualities, body and soul, fear and faith, heaven and earth, masculine and feminine, separateness and ONEness…  The karmic cleanup of our lives requires one to be quiet and to let the healing light of Shechinah help us face the music of our soul with an open heart.
ALL IT TAKES IS ONE
"Love yourself enough to heal yourself" Gabriel Cousens.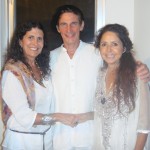 I had the privilege of spending last Shabbat with Spiritual Teachers Gabriel and Shanti Cousens who have been delivering many followers to the ONE within.  I am in deep appreciation to them for their work and also to Rabbi Leah Novick whose book "On the wings of the Shechinah" has tearfully brought me additional completion within my own journey.  It is my goal and intention to meet with her this summer in California.
Hope to see you at the next:
Community New Moon Community Ocean Mikvah on May 6th
Shabbat Nature Walks and Healing Talks on May 7th
Sacred Sexuality & Tantra Playshop on May 22nd
Sacred Sexuality & Tantra Introduction  on May 25th
One final interesting note:  In May 2011 World Jewry Digest:  Focus on the Front Lines has an article called:  Orthodox Rabbis Taking Specialized Sex Therapy Training.  Aahh…  In my lifetime, I see change!
Happy Mothers Day to all!  May the Divine Mother, the Shechinah within you shine with light and love!
Shalom B'Ahava (peace & love),
Rabbi Melinda Bernstein
Temple of Tantra & Judaic Studies
Everyone is unique. Compare not yourself with anyone else lest you spoil God's curriculum. Baal Shem Tov
888-SELF-YOU
Fax:  561-865-7678
Skype:  rabbimelinda