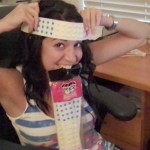 I started writing this post about my daughter's trip to Israel and midway through I wanted to check the parsha, something I haven't done since my separation and divorce almost 5 years ago.  I realized I was about to write my first Midrash.  (A Midrash is a way of interpreting biblical stories that goes beyond simple distillation of religious, legal or moral teachings.)  Maybe I'll be writing Melinda's Midrash someday ~ I'll ask god for guidance on that one.
Anyways, before I start, I'm going to do my 7 second peaceful heart breath.
7, 6, 5, INHALE 4, HOLD 3, 2, 1, EXHALE  ~~~~
What if god said:  "it's my way or the highway" and how do we know which "highway" to take?  As a single parent of two, I am always checking myself to provide them with spiritual nourishment, you know?  A few months ago, before I took back my maiden name, my daughter said something to me and I knew that this day would come.  She has decided to go to Israel next year for school because she passed on college in Israel last year.  Things happen between my children and my own growth and I've been noticing this cool pattern for a few years.  When I fly – one or both of them fly.  When I'm in romance – she is investigating one, he is "too cool to discuss".  When I was suffering with my divorce – they were suffering also…
Anyways, onto the kids ~ growing up, they would have their friends over for shabbos lunch and afterwards I'd ask questions about the parsha.  If they got the answer right, they got a candy (pareve – "non-dairy" of course).  I remember buying these dots on a page, that they'd have to peel off and eat.  Anyways, it was always fun for me to connect to the kids in that way!
So I found the Parsha Shemini on the internet for this week and it was about Moses and Aaron bringing sacrifices to the altar and all the rules to be sure their sacrifices were kosher.  I read this quote:  "You must distinguish between the sacred and the profane, and between the clean and the unclean" (Lev. 10:10).
Because a bulk of my work right now is reaching into the heart wounds of others, (tikkun olam otherwise known as energy healing)  I realized A.  that I had to dig into my own wounds & B.  we suffer because as humans we have trouble distinguishing the sacred from the profane in our mundane life.  How can we see the sacredness in getting a divorce or losing a job or having a child take his own life, I ask myself?  Coming from the factual answer is so very simple ~ god giveth and god taketh away.  Coming from the storyline answer:  we have created profane out of our own free will, and if that is the case, we can also create sacred too!  So on that note, I invite you to believe that you are sacred and beautiful!
If this were a shul/synagogue, it would be appropriate to say shabbat shalom ~ but it's not shabbos yet and my shul/synagogue travels with me wherever I go.  So I'll say this happy almost hump day!  Enjoy this spiritual boost!
I have a few gifts:  A  free Judaic Meditation and from my mitzvah project  ~ As a Divorce Coach. you can use my free guided meditation.  'Both meditations have the 7 second peaceful heart breath too!  And you can also get my book for the   7 Steps to a Peaceful Heart. which was written by Melinda Freiman, before I took back my maiden name.  Those steps are applicable to divorce from a spouse, divorce from a job, divorce from a lifestyle…
May you always be blessed in each breath with a peaceful heart …
Om Shalom,
Rabbi Melinda