This Wednesday night in the jewish calendar it's Tu'Beshvat.  Tu'Beshvat is known as the "New Year for Trees", the celebration of life itself.  The custom is to eat as many fruits as one can appreciate the abundance of the fruit from the trees and have a greater connection to hashem, to G-d.  Last night I went to a Raw Food Pot Luck and met a man who was once a "fruitarian".  We began talking about his diet, Tu'Beshvat and the energy of the planet.
He told me that during the time he was a "fruitarian" miracles were happening in his life every day.  Based on Genisis 1.29 fruitarianism was the original diet of humankind in the form of Adam and Eve.  If you wish to honor the holiday, become a Fruitarian for a day and see what happens for you!
Anyways, I feel connected to this holiday by simply taking a walk, admiring what G-d gave us as well as sitting near and even hugging a tree.  Smelling the essence of the air as well as the fragrance of the tree also deepens my soul connection to the gifts of sensory expansion and appreciation for our abundant lives.  The next time the gardener is mowing your lawn, see if you can take in the essence of the grassy smell ~ see if it brings you more groundedness and stability.  Just try it, that's all I'm saying.
I hadn't really cared about nature at all growing up, due to the consciousness of my family.  I'm not saying it was good or bad, I'm just saying that is what was true for my childhood.  Anyways, as I began my own nature walks, I began to appreciate the astrological meaning for "Capricorn", my sign.  This "earth sign" signifies groundedness, simplicity and stability and that feels pretty good to me which reminds me of a camping story.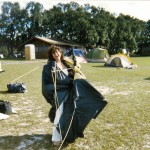 I was in Kundalini teacher training and went to "white tantric" at Winter Solstice.  For those of you who don't know:  Kundalini teachers, students and enthusiasts celebrate solstices and devote several days to "white tantric" meditations to speed up their healing/ascension process.  During this time, I was going through my divorce and hadn't tented since the one time when I was 10 years old and camped at girlscout camp.  Not only were my emotions raw but the temperature outside was 40 degrees.  As a native Floridian, I wasn't thrilled.  I was lucky because my first student named Bruce drove me to this Solstice, set up my tent, brought me a heater and mattress pad too!  I had one of the biggest tents.  It was a tent you could stand up in.  He set up his "one man" tent near mine.  He was a pro at tenting and I was grateful for his help.  However, I wasn't grounded in those days, life wasn't simple nor did I feel stable.  I endured only ONE night in the tent, after day one of three for White Tantric.  That night I cried, screamed and probably kept the entire camp up but the next day.   The horrible clearing of anger, shame and sorrow had left me feeling calmer the next day.    Here I am after I disassembled the tent.
I haven't been in a tent since that time and am very excited because next month I am going to try tenting again.  This time I will set up my own "one wo-man" tent!  I'm going to go to a Naturist Resort and holding my FIRST Shabbat Service as well as speaking on energy healing and on tantra.  I am so excited and PRAY for warm weather.   If you wish to join in the fun, check out the event here.
http://www.sunsportgardens.com/festivals/index.html
PLEASE ASK ME HOW YOU CAN SPONSOR THIS TRIP
Shalom B'Ahava (peace & love),
Melinda Bernstein, Holistic Rabbi
Temple of Tantra & Judaic Studies
Everyone is unique. Compare not yourself with anyone else lest you spoil God's curriculum. Baal Shem Tov
888-SELF-YOU